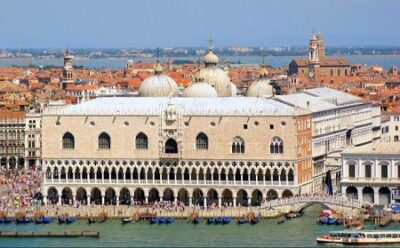 Doge's Palace: Venice's Gothic confectionery
An iced wedding cake of a building overlooking the city's main waterfront is the Doge's Palace, the historic seat of the doge and the Venetian Republic and the very symbol of Venice. Geometrically patterned with pink Verona marble and white Istrian stone and topped with a line of pinnacles, it's also an iconic example of Venetian architecture. Like its façade, the palace's interior is all pomp and grandeur, full of ornate furnishings and wall paintings by the biggest names in Venetian art.
The Doge's Palace stands on the outlines of a Byzantine fortress, of which only parts of the ground-level wall and some herringbone-pattern brick pavements survive. The current palace with the two identical façades facing the Molo and the Piazzetta was completed in 1424 and remains Venice's undisputed Gothic masterpiece. Severe fires later prompted rebuilding parts of the palace which the Venetian government always took as an opportunity to bring the interior up to date.
Built in 1442, the palace's main gateway adjoining St Mark's Basilica, designed by Bartolomeo Bon, is a byword for Venetian Gothic. The Porta della Carta is where petitions were handed to the government and where laws were proclaimed. Crowned with the statue of Justice, it features four other virtues – Fortitude, Temperance, Charity and Prudence – at either side. Above the doorway, kneeling before the lion of St. Mark is Francesco Foscari, Venice's longest serving doge.
The grandest room inside the palace is Sala del Maggior Consiglio, one of the largest in Europe at 53 by 25 metres. In Venice's democratic tradition, it hosted meetings of all patrician males over the age of 25. It's decorated with the best of Venetian iconography, including portraits of the first 76 doges, of whom only Marin Falier is blacked out for his attempted coup d'etat. It also contains Tintoretto's swirling Il Paradiso, which at 22 by 7 metres is the world's longest canvas painting.
Attached to the palace by the Bridge of Sighs are its prisons. They ranged from damp cells called i pozzi ("the wells") to i piombi under the lead roof, which became hot in the summer. The Bridge of Sighs is named for the sighs of prisoners who entered their cells through the bridge with their last glimpse of Venice. The most famous prisoner – Giacomo Casanova – managed to escape through the roof into the palace from where he walked straight out the front door in someone else's clothes.