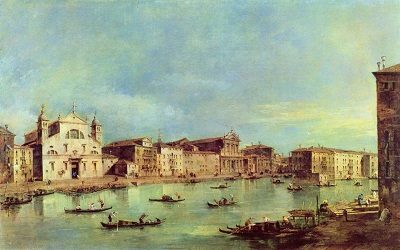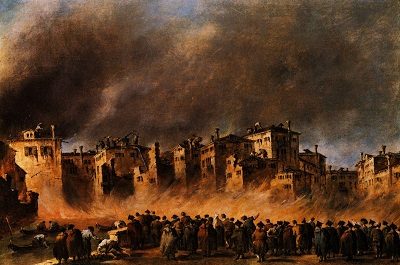 Guardi's long wait for artistic recognition

In 17th-century Venice, the art of vedute was a family business and a fiercely competitive one at that. Two major families of artists battled it out between themselves for lucrative commissions: the Canals and the Guardis. Within the latter, Francesco Guardi, who is now regarded as Canaletto's greatest rival, was in his lifetime a struggling artist and died in poverty. His style was too loose to stand comparison with the topographically exact Canaletto and it wasn't until the late 19th century when he was rediscovered. Guardi's reputation soared at the highpoint of Impressionism when his spontaneous brushwork finally triumphed over the photographic style of Canaletto.
A highly versatile painter, Guardi created altarpieces, frescoes, scenes from mythology and capricci but he found his forte in vedute. During his lifetime, he was often overshadowed by his older brother Gianantonio. This closeness has created issues with attribution because the brothers worked on many artworks together. Financial success mostly eluded him and even in his forties he worked in other artists' studios, including that of Michele Marieschi. This is why relatively few and only later works are signed by Guardi. Only towards the end of his life did he receive a few large commissions from the Church and the Venetian government.
Guardi's mature style is known as pittura di tocco (of touch) for its small dotting and spirited brush strokes. This element proved highly impressive to the Impressionists – and particularly Pointillists – of the 19th century. The mature Guardi also relied on sfumato – avoiding the extremes of light and dark and grouping different colours tightly around the middle grey – to create depth and atmosphere. This accounts for his lightness of touch and silvery tonality. As a result, his mature vedute became less detailed and his brushwork more diffuse and shimmering. His Venetian buildings often appear to be melting and sinking into a murky lagoon.
This is a marked departure from Guardi's early vedute which had strong echoes of Canaletto with exaggerated perspectives and powerful light and colour. Guardi's mature vedute, painted from the 1750s onwards, transition to a darker palette with his skies becoming stormy and charged with atmosphere. Whereas the mature Guardi began to paint clouded skies above a blurry city at dusk, Canaletto continued to depict Venice in sunny daylight with his linear details. These contrasts, however, simplify the facts since Canaletto often painted ordinary communal life while Guardi did not avoid sometimes painting the ceremonies of Ducal Venice.
On the whole, where Canaletto attempted to fill his vedute with as much detail as possible, Guardi cared more about creating a mood and atmosphere. Ultimately, this atmosphere is one of melancholy: Guardi's paintings evoke the onset of decline. His tiny people seems unable to rescue the crumbling republic, as, for example, in his Fire in the Oil Depot in San Marcuola. It is a fitting depiction of the rapidly declining empire and perhaps a premonition of the end that was to come in 1797 with Venice's surrender to the French. This makes Guardi a visionary artist and one that is, after a long delay, now viewed as one of the great Venetian old masters.