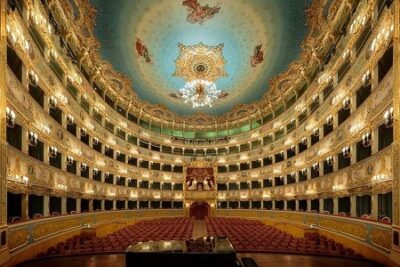 La Fenice: Venice's operatic sensation
No longer a sea power it once was, Venice in the 18th century became, with equal aplomb, an operatic sensation. With as many as six theatre venues in the city at one time, Venice pioneered another novelty too: opera's shift from a private enjoyment to a public one where anyone could rent a box. No other opera house symbolises this golden age better than Venice's Teatro La Fenice, one of the most famous and renowned landmarks in the history of Italian theatre and opera as a whole.
The first commercial opera house in Venice where members of the public could enter for payment was the Teatro San Cassiano which opened in 1637. It was demolished in the early 19th century after an illustrious run. In 1640, a notable competitor in the Teatro San Moisè opened in the city the with the premiere of L'Arianna by Claudio Monteverdi. Long at the cutting edge of trends – it once opened for a demonstration by the Lumière brothers of the first moving films – it closed down in 1818.
Another Venetian institution of its day was the Teatro San Giovanni Crisostomo established in 1678. Having gone through various vicissitudes including closure, it became the Teatro Malibran in the 19th century and still exists today, named after the great Spanish mezzo-soprano Maria Malibran. And then there was the Teatro Vendramin dating back to 1720 and also surviving to this day as the Teatro Goldoni, named after the Venetian-born playwright and librettist Carlo Goldoni.
Crowning all of them is the Teatro La Fenice, Venice's premier opera house with truly international credentials, famously perfect acoustics and an impressive artistic legacy. Established to replace an earlier theatre in 1792, only a few years before the fall of the Republic of Venice, it soon became the site of legendary performances of bel canto operas by Rossini, Bellini and Donizetti. La Fenice has also famously premiered Verdi's Rigoletto and La Traviata, and Stravinsky's The Rake's Progress.
The name La Fenice (the phoenix) captures an opera house that has lost three venues to fire – in 1774, 1836 and as recently as 1996. The current, gilt-encrusted replica from 2003 is the one I visited on 15 December 2013. The occasion wasn't a grand opera evening but a live-recorded chamber performance of Beethoven's Sonatas 1 and 5, and Dvořák's Romance, Four Romantic Pieces and Sonatina by Andrea Bacchetti (piano) and Domenico Nordio (violin). La Fenice didn't disappoint.