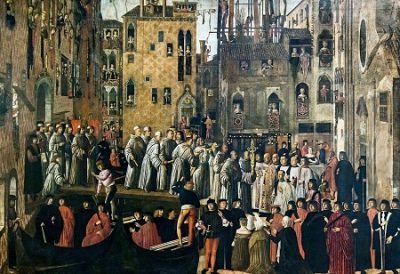 Mansueti: Much more than painter of costume

Giovanni Mansueti, the 15th-century Venetian painter best known for his narrative canvases, is often dismissed as derivative. He apparently painted with elaborate detail but without imagination. His strength, we're told, was in conveying the mundane which he did in a style that is largely static and analytical. His paintings, such as Miracle of the Relic of the Holy Cross in Campo San Lio, now in the Accademia, nevertheless capture the spirit of his time that goes beyond his grasp of costume and architecture.
Mansueti was a pupil of Gentile Bellini and his style tends to resemble that of Cima da Conegliano and Vittore Carpaccio. His artistic reputation in 15th-century Venice must have been sufficient to warrant interest from the confraternity of San Giovanni Evangelista which called upon the likes of Pietro Perugino, Carpaccio, Gentile Bellini and Lazzaro Bastiani to depict the various stories of the miracles performed by their chief relic – a fragment of wood from the cross on which Jesus was crucified.
Mansueti's contribution to this series, known as teleri, includes his Miracle of the Relic of the Holy Cross in Campo San Lio. The subject of this telero is the miracle that occurred during the funeral of a confraternity member who had not believed in the relic in his lifetime. The relic was brought to the funeral in the church of San Lio but outside the church it became so heavy that it couldn't be carried over the threshold. Another cross had to be used while the one with the relic was entrusted to the care of the priest of San Lio.
Mansueti's style in the painting is often contrasted with the preparatory drawing attributed to Gentile Bellini. The sketch is airy, almost serene, bearing the hallmarks of Gentile's fluidity. By contrast, Mansueti's canvas depicts one of the most condensed spaces in Venetian painting. His desire to fill space results in figures popping up from every window, door, roof or balcony, filling in the square and floating in gondolas. The overcrowded religious fervour captured by Mansueti is, however, hugely atmospheric.
The artist's concern for architectural detail is just as overwhelming. Mansueti alters the architectural topography of the square, bringing the bridge closer to the church and making the buildings in the background close in on the viewer. With the houses on the left and right towering menacingly above the miracle in progress in the square, the visual effect is paralysing. This is by no means a work by someone known only for his skillful hand in depicting decorative costume and fine details of architecture.