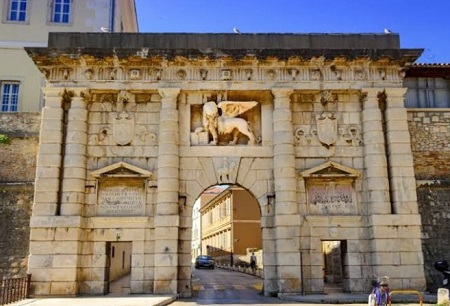 Michele Sanmicheli: Venice's military architect

Uncommonly proficient in sciences and particularly construction statics, Venetian Mannerist architect Michele Sanmicheli was above all an outstanding engineer. A longtime resident of Rome and a proponent of Vitruvian architectural doctrine, his works are as functional as they are elegant. Much admired by Vasari and Palladio whose own works he inspired, Sanmicheli is now primarily known for military fortifications, both on the Venetian mainland and in Venice's overseas colonies.
Born in Verona, Sanmicheli spent two decades in Rome where he was exposed to architecture of Roman antiquity and the contemporary masters such as Raphael or Bramante. Having fortified the towns of Parma and Piacenza, he was hired by his native Republic of Venice as military land and maritime engineer and sent wherever such work was needed. In spite of pressing requests for his services from the duke of Milan or the king of France, he remained loyal to Venice until he died.
Sanmicheli's crowning achievement are his designs for the fortifications throughout Venice's maritime empire. In addition to Venice itself as well as Verona, Bergamo and Brescia on the Italian mainland, his works can be seen in Dalmatia, Crete and many other Venetian possessions in the Mediterranean. The introduction of gunpowder led to changes in military techniques and these are reflected in Sanmicheli's ingenious design of so-called alla moderna (or bastioned) fortifications.
Sanmicheli's architectural transition from square towers and high walls of old towards pentagonal bastions, low walls and moats of new is best illustrated in Šibenik's iconic St Nikola Fort on the coast of Venetian Dalmatia. In the nearby town of Zadar, also in Venetian Dalmatia, stands Sanmicheli's magnificent Land Gate, which forms part of the city walls. The gate was designed as a classical triumphal arch with three entrances and the winged lion of St Mark, Venice's mascot, on top.
In Venice itself, Sanmicheli proved his salt as an architect proper not with one but two grand palaces. His Palazzo Grimani and Palazzo Corner Mocenigo are essentially Mannerist buildings that nevertheless introduce a measured Palladian proportion, tight symmetry and overall classical vocabulary to the façade. In the latter palace, Sanmicheli used very thin bricks – a method widely used in Rome, but not in Venice, confirming that his formative years were spent in the Eternal City.