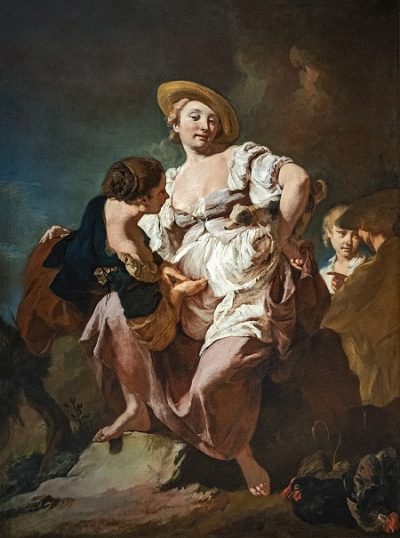 Piazzetta: Venice's dark Rococo master

Giambattista Piazzetta, 18th-century Rococo painter of religious subjects and genre scenes, created art that was fundamentally different from that of his Venetian contemporaries. He did incorporate the subtle colouring and curvaceous forms of the Rococo style, but Piazzetta was a much darker artist. Instead of improvising with intense colours, he worked slowly – so slowly that he was likened to a snail – in almost monochromatic oils, creating scenes of everyday life and biblical scenes interpreted as pastoral idylls.
Born in Venice and initially apprenticed to Antionio Molinari, Piazzetta went on to study with Giuseppe Maria Crespi in Bologna. Crespi likely sparked his fascination with sombre but sufficiently dramatic effects as well as his interest in genre painting. Also, for the rest of his career Piazzetta would emulate his Bolognese tutor by portraying common people in rural settings. By 1710 Piazzetta was in Venice and by the 1740s he owned an active studio in the city which concentrated on church commissions and genre scenes.
Piazzetta's altarpieces and genre scenes are defined through an incisive design and crystalline light. These attributes would inspire his contemporaries, including Giambattista Tiepolo who, however, preferred softer tones. Piazzetta is also known for his drawings of half-length figures and heads of people who were often real Venetians. At the time, drawings weren't considered independent works of art so Piazzetta effectively created a new art form. In doing so, he documented aspects of contemporary Venice.
Among Piazzetta's Rococo-pastoral masterpieces, The Fortune Teller, now in the Accademia, truly stands out. This is a genre scene with two young peasant women in the foreground and two young peasant men in the background. The painting focuses on the beauty of the central figure – the young female commoner, struck by an intense light that brings out her body and her exhibitionist pose against the dark background. Piazzetta's masterful chiaroscuro amplifies the playful drama of the scene to maximum effect.
Piazzetta's emphasis on the contrast between light and darkness in capturing the dramatic quality of his figures makes him one of the greatest representatives of the 18th-century chiaroscuro current, a revival of Caravaggio's signature style. In The Fortune Teller, its full visual impact had long been concealed under a thick layer of grime which adhered to the varnish. A recent restoration has made visible Piazzetta's original chromatic intensity, allowing the viewer to rediscover anew the work's incredible pathos.