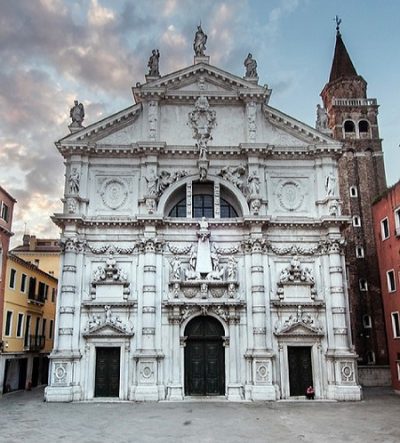 San Moisè: Venice's Late Baroque oddity

True to form, the Baroque façade of the church of San Moisè is dripping with exuberant ornamentation of garlands, scrolls, cherubs – and camels. While it may not appear as heavy as that of the nearby Santa Maria del Giglio, several of its statues had to be removed in the 19th century to prevent it from collapsing under their combined weight. The remaining statuary is by Heinrich Meyring which gives the church a decidedly Northern European feel – a far cry from the Venetian Baroque credentials of, say, La Salute.
Unusually, the church is dedicated to Moses since the Venetians, like the Byzantines, tended to canonise major Old Testament figures as saints. It also honours a certain Moisè Venier with whose financial support the church was previously restored. Just as unusually, a large number of statues, both on the inside and outside of the church and including those attributed to Meyring (who was known to Venetians as Merengo), aren't typical devotional works but rather sycophantic tributes to various church patrons.
The church's most ostentatious feature is still its ornate façade, designed by Alessandro Tremignon, a Venetian architect from Padua, in the late 17th century. Influenced by Longhena, Tremignon adapted the Venetian High Baroque style into a typically Late Baroque one, with little regard for the guidelines of the canonical Baroque. His lush pictorial effects that include the grotesque camels above the church's entrance, probably in pursuit of an Egyptian theme associated with Moses, are a case in point.
The church's interior is dominated by a massive sculptural set and altarpiece, the joint work of Tremignon and Meyring, depicting scenes from the Old Testament related to the story of Moses, including Mount Sinai with Moses Receiving the Tablets. In addition to its overload of works by Meyring, who was notably a pupil of Bernini, the church also contains Tintoretto's majestic Washing of the Feet in the chapel to the left of the altar and Palma the Younger's The Last Supper, directly across from it.
The San Moisè is quite an oddity, especially when visited in between more conventional churches in Venice. It's certainly a Late Baroque masterpiece which, as we have been told by critics for over a century, represents an aesthetic decline in Venetian architecture. Ruskin, the 19th-century architecture critic who started it, found this church famously distasteful: "It is notable," he wrote, "as one of the basest examples of the basest school of the Renaissance" (by which he, oddly, also meant Baroque).