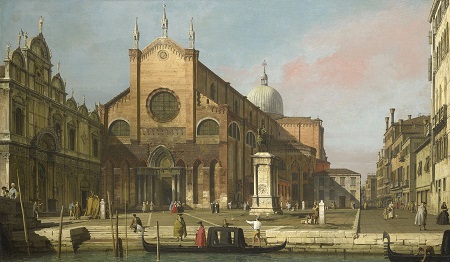 San Zanipolo: Venice's celebrity burial church

Of Venice's 139 churches, the two largest – apart from St Mark's Basilica – are those of the main mendicant orders, the Franciscans and the Dominicans. The latter – the church of Santi Giovanni e Paolo (or San Zanipolo in the Venetian dialect) is the larger of the two despite lacking a bell tower. The burial place for doges and other prominent figures, it's been called 'a Venetian Pantheon'. It's dedicated to two obscure saints – John and Paul – rather than the two apostles.
The current Dominican church, built on the site of a smaller structure, dates back to the 14th and 15th centuries when its massive dome and Bartolomeo Bon's portal were completed. The latter was part of a planned marble façade that was never realised. The unfinished brick façade may have been one of Venice's final Gothic masterpieces when Renaissance was already in full swing and it still makes a fine contrast against the marble-clad front of the adjoining Scuola Grande di San Marco.
The church's interior overwhelms with its sheer size. Supported by ten columns of Istrian stone and cross-vaulted with wooden beams, San Zanipolo is filled with light which floods the nave through the Gothic stained glass windows from Murano designed mostly by Bartolomeo Vivarini. The Baroque high altar attributed to Baldassare Longhena vies for attention with the funerary monuments of 25 of Venice's doges and the likes of Gentile and Giovanni Bellini who are all buried here.
The tombs of doges are the church's biggest draw, with all the ducal funerals taking place here after the 15th century. They are monuments to both the doges and their architects – Pietro Lombardo, Andrea Palladio or Vincenzo Scamozzi. Art-wise, the church features a Giovanni Bellini polyptych in its original frame as well as works by Lorenzo Lotto and Paolo Veronese. Its most famous work – Veronese's The Feast in the House of Levi now hangs in the Accademia.
San Zanipolo itself has been the object of art, most famously by Canaletto. In his 1730s cityscape Campo Santi Giovanni e Paolo, now in the Royal Trust Collection in London, the artist has adjusted the view across the canal so that the façade of the church is almost full frontal and used another viewpoint for the row of houses on the right. The fall of light across the main façade and side of the church has been emphasised for dramatic effect – a credit to San Zanipolo and Canaletto alike.