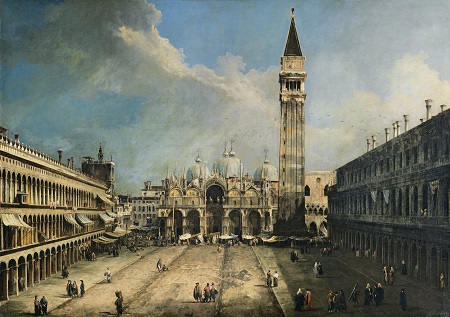 Andrea Tirali: He who laid Venice's most iconic pavement

Long before Copacabana Beach in Rio de Janeiro had its signature geometric paving known as calçada, Venice's St Mark's Square was paved with an equally timeless pattern, reminiscent of oriental rugs that were popular here in the early 18th century. Laid in 1723, the iconic pavement made of trachyte – a grey volcanic rock – and white Istrian limestone, is the work of Andrea Tirali, the Venetian-born architect who became one of the most prominent builders in the city at the time.
Tirali cut his professional teeth in his native city as a stonemason and engineer. Working for the Magistrato alle Acque, he was tasked with the reconstruction of the Ponte dei Tre Archi, giving it its three-arched structure that still exists today. He then won his first strictly architectural commission in a competition to design the Chapel of San Domenico in the Basilica dei Santi Giovanni e Paolo, which is packed with funerary monuments of 25 of Venice's doges who are buried there.
A truly versatile architect, Tirali went on to design the classical Greek portico to Vincenzo Scamozzi's church of San Nicolò di Tolentino and the Late Baroque façade of the now deconsecrated church of San Vidal. In addition to his designs for several private Venetian palazzi, including the Baroque Palazzo Priuli Manfrin and the neoclassical Palazzo Diedo, Tirali also managed some of the earliest maintenance works on the leaning bell tower of San Martino on the island of Burano.
Tirali's main contribution to Venice, however, is the proto-modern pavement in St Mark's Square which also reaches out into the Piazzetta. This complex design replaced the herringbone pattern that had covered the square since the 12th century. Interestingly, Canaletto's canvas The Piazza San Marco in Venice, painted in 1723 and now in the Museo Nacional Thyssen-Bornemisza in Madrid, has the square covered with beaten earth, ready for the laying of Tirali's paving stones.
It's been suggested that Tirali's geometric design laid out in white against a grey background pinpoints the position of market stalls but Canaletto's later paintings show that the market stalls in the square don't follow the markings. The theory is likely based on the previous pattern with bands of white stone which ran parallel to the long axis of the square and marked the positions for the ceremonial processions as is clearly visible in Gentile Bellini's Procession in St Mark's Square.