Fondaco dei Tedeschi: Warehouse to shopping mall

Built as the accommodation for German merchants, the Grand Canal edifice of Fondaco dei Tedeschi near the Rialto Bridge has also been a customs hall and a post office before becoming a department store.
San Zanipolo: Venice's celebrity burial church

Venice's principal Dominican church of Santi Giovanni e Paolo (or San Zanipolo in the Venetian dialect) is one of its largest. The burial place for doges and other prominent figures, it's been called 'a Venetian Pantheon'.
Andrea Tirali: He who laid Venice's most iconic pavement

Long before Copacabana Beach in Rio de Janeiro had its signature geometric paving known as calçada, Venice's St Mark's Square was paved with Andrea Tirali's equally timeless pattern reminiscent of oriental rugs.
Venice: Two columns standing, one missing

Venice has three magnificent stone columns: one holding a winged lion – the symbol of St Mark, one topped with St Theodore, the city's first patron saint, standing over a dragon, and one buried deep inside the lagoon.
Michele Sanmicheli: Venice's own military architect

Uncommonly proficient in sciences and particularly construction statics, architect Michele Sanmicheli is now chiefly known for military fortifications, both on the Venetian mainland and in Venice's overseas colonies.
Frari: Church with who is who of Venetian art

As a Franciscan church, Venice's Basilica Santa Maria Gloriosa dei Frari, or the Frari, has a suitably modest exterior. On the inside, however, the Franciscan ideals of poverty are challenged by the wealth of art on display.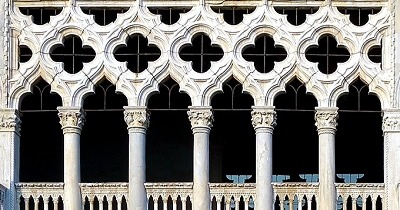 Bon: A byword for Venetian Gothic

As an architectural style, Venetian Gothic is largely synonymous with Bartolomeo Bon and his palaces along the Grand Canal and church portals all around Venice. Bon fused Italian Gothic with Byzantine and Islamic influences.
Sardi: Venice's High Baroque engineer

Not to be confused with a better known architect of the same name from Rome, the Venetian-born Giuseppe Sardi is responsible for several High Baroque church façades and an engineering restoration in Venice.
San Giorgio Maggiore: Palladio's dream island church

They say that visitors come to Venice's island of San Giorgio Maggiore for the views and stay there for Palladio. Its eponymous Palladian church is a landmark, an integral part of the Venetian vista, much like Longhena's La Salute.
Ca' d'Oro: A museum with a view

Ca' d'Oro, Barlomeo Bon's Gothic masterpiece, boasts a Grand Canal façade with closely spaced columns with ogee arches and tracery with quatrefoil openings. Views of Venice framed by these arches are unsurpassed!
Why are there so many churches in Venice?

For a compact city of some six square kilometers, Venice does seem rather heavy on churches – there are 139 of them to be precise. Yet it is nothing short of a miracle that so many Venetian churches still survive today.
Scala Contarini del Bovolo: Venice's ultimate staircase

In Venice where only the church and state were allowed to erect towers, this private non-tower is so dominant that it's responsible for naming both the palace and the branch of the family that built it: Scala Contarini del Bovolo.
San Simeone Piccolo: A dome without a church

If you arrive in Venice by train, the odd little church with an oversized green eggcup dome is the first thing you see from the railway station across the Grand Canal. Napoleon famously called it "a dome without a church".
Accademia: The grand home of Venetian painting

Home to pre-19th century masterpieces of Venetian painting, the Gallerie dell'Accademia, or Accademia, is Venice's principal art museum. Its collections come from Napoleon's looting of art from religious institutions around town.
Amsterdam: Venice of the North 2.0

Amsterdam has to its name about one hundred kilometres of canals linking some 90 islands with the help of approximately 1 500 bridges. This amphibious northern European capital is a prime contender for a Venice of the North.
St Petersburg: Venice of the North 1.0

The cultural capital of Russia is an amphibious masterpiece unto itself. Among the cities comparing themselves to Venice, it must feature, with its 342 bridges across its 42 islands and 93 canals, at the top of the list.
San Moisè: Venice's Late Baroque oddity

The Late Baroque façade of the church of San Moisè, designed by Tremignon, is dripping with lush ornamentation of garlands, scrolls, cherubs – and camels. It's a far cry from the Venetian Baroque of Longhena's La Salute.
Madonna dell'Orto: Venice's survivor church

When you visit today, you'd never know that the Venetian church of Madonna dell'Orto had been left to crumble as horse stables, a store and a warehouse. Its current state is a miracle – perhaps the work of its miraculous relic.
Ponte di Rialto: A Venetian bridge too far

From the engineering point of view, the Rialto Bridge, laden with two rows of shops and three walkways in between and around them, would have a tough sell on solid ground. On Venice's shifting soil it sure defies gravity.
In Venice, modernity arrives by train

The fascist-era edifice of the Santa Lucia train station is as modern as Venice ever gets. The construction of the railway linking the city with the mainland in the 1840s began to transform the look of the last stretch of the Grand Canal.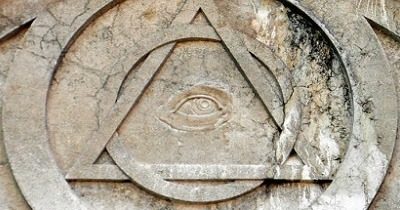 La Maddalena: Venice's mysterious masonic church

Modelled on the Roman Pantheon, the church of Santa Maria della Maddalena, or simply La Maddalena, is a Venetian mystery. The all-seeing eye inside an interlocking circle and triangle at its door is a symbol of freemasonry.
Miracoli: Venice's slab of marble wedding cake

The Renaissance church of Santa Maria dei Miracoli is one of Venice's smallest but greatest treasures. More sculpture than building, this jewel box of a church decked out in polychrome marble is just surreal.
Fondaco dei Turchi: Venice's Byzantine revival

Fondaco dei Turchi, Venice's lodgings for Turkish merchants, is one of the best examples of early Veneto-Byzantine architecture. It's also a good example of Byzantine revival due to its 19th-century restoration.
Leaning towers of Venice
The Leaning Tower of Pisa has stiff competition all around Italy as far as tilting bell towers go and Venice, with its shifty foundations, counts as many as four such structures if you include one on the nearby island of Burano.
With Massari, Venetian architecture ends in style

In the latter part of the 18th century, Venice as a trading empire and a proud republic was a sinking ship but it was determined to go down in style. Giorgio Massari, as a talented architect, was only too happy to oblige.
Rossi: Master blender of Venetian styles

Domenico Rossi blended Palladian architecture with the Baroque achievements of Longhena. Together with his contemporaries, he is now credited with bringing stylistic consistency to 18th-century Venetian architecture.
Sansovino and Venice as a new Rome

Several buildings around the Piazzetta of San Marco – the Zecca, Biblioteca Marciana, and Loggetta – have a distinctive Roman feel. They all are works of Jacopo Sansovino who recast Venice as the true successor of Rome.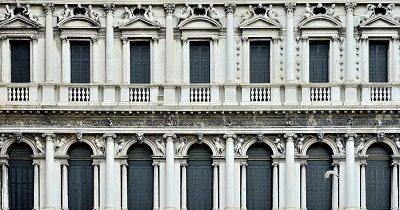 Scamozzi's last word on Venetian Renaissance architecture

Venetian architect and theorist Vincenzo Scamozzi bridges the era between Palladio, whose unfinished projects he inherited, and Longhena, his only pupil and architect, who in turn completed his teacher's unfinished work.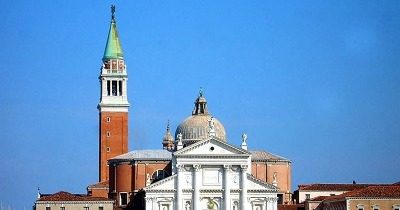 Palladio and the genius of Venice

In Venice, Palladio's clean lines, elegant proportions and classicising porticos are found on three churches that stand outside of the city's core but, for this very reason, can be viewed against an uncluttered background.
'La Salute': Longhena's Baroque sensation
Baldassare Longhena's two-domed votive church of Santa Maria della Salute, or just the Salute, is a byword for Venetian Baroque and it has come to overshadow all else that was built in Venice during the 17th century.
Codussi nudges Venetian Gothic towards Renaissance

A genius at blending Venice's traditional styles with the classical forms of antiquity, Mauro Codussi signals the change of Venetian architecture from Gothic to Renaissance. In doing so, he changes Venice forever.
St Marks's Campanile: An exact replica of itself

The standalone, 99-metre tall St Mark's Campanile, perhaps the most recognisable symbol of Venice, is a timeless design. So much so that it was painstakingly rebuilt as an exact replica of itself after it collapsed in 1902.
Veneto-Byzantine architecture: Venice's oldest

Venice's earliest architectural style is a fusion of Byzantine forms overlaying Latin foundations. Unlike in the city's church architecture, in secular buildings the Veneto-Byzantine style only survives in fragments.
Doge's Palace: Venice's Gothic confectionery

An iced wedding cake of a building overlooking the city's main waterfront is the Doge's Palace, the residence of the doge, the seat of the Venetian Republic and, as an icon of Venetian architecture, the very symbol of Venice.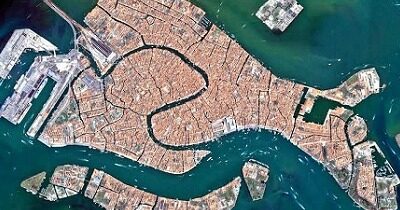 Grand Canal: Venice's beauty-clogged artery

Venice's main waterway, the Grand Canal, is one of the world's best urban thoroughfares. Its banks are lined with more than 170 palaces, churches and public institutions, which show off the greatness of the Republic of Venice.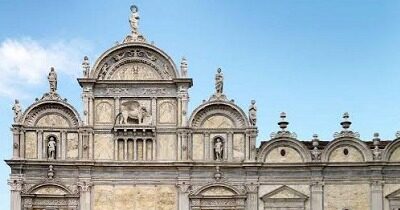 Scuola Grande di San Marco: World's most palatial hospital

Decked out with statues and reliefs of saints, angels and winged lions, the marble façade of the Scuola Grande di San Marco is one of Venice's grandest. With the scuola long gone, the building now serves as the city's hospital.
St Mark's Basilica: Two acres of Byzantine mosaic

With its hemispherical domes, niched portals and mosaics, St Mark's Basilica is probably the best preserved example of Byzantine architecture outside Istanbul. It was custom-built to house the body of St Mark.