Florentine drawing or Venetian colour?

In Renaissance painting, in contrast to Florentine disegno, where "drawing" best approximates nature, stands Venetian colorito where "colour" and its judicious application best captures life. How do they compare?
Pietro Longhi: Painter of masked Venetians

No other artist captures Venice's masked revellers with more fidelity than Pietro Longhi. A contemporary of Guardi, he takes care to catch – with vivacity and sometimes with pungent irony – passages of real Venetian life.
Bernardo Strozzi: Genoese monk to Venetian master

Bernardo Strozzi, the principal figure of 17th-century art in Genoa and Venice, lived the drama he painted. He answered the calling by joining a monastic order which he then spent years trying to leave to become an artist.
St Ursula: Carpaccio's flight of fancy in nine parts

The nine large canvases by Vittore Carpaccio that make up the St Ursula cycle are among the best-loved in the Accademia. They are a world in itself – filled with Venetians, canals and funnel-shaped chimneys.
Lorenzo Lotto: Venice's consummate portraitist

Lorenzo Lotto's portraits are the work of a psychological genius. The look of his sitters is idiosyncratic and penetrating. There is no conventional flattery – far from it. What there is plenty of is immense psychological depth.
Palma the Younger: Venice's naturalist Mannerist

Iacopo Palma, also called Palma the Younger to distinguish him from his uncle Palma the Elder, is now best known for his blend of naturalism and Mannerist exaggeration. He dominated Venice's art scene in the early 1600s.
Paris Bordone: Painter of Venetian flesh

Venetian Mannerist painter Paris Bordone is best known for his sexualised paintings of women. His semi-undressed female half-figures, captured in close interaction, often combine skilled portraiture with allegory.
Carpaccio's Ten Thousand Martyrs are just as many

For Vittore Carpaccio who was known for cramming vast numbers of characters into his picture frames, the representation of ten thousand contorting bodies of martyrs on Mt Ararat would have been a godsend.
Bonifacio de' Pitati: Venice's technicolor painter

Praised as a brilliant colourist, Bonifacio de' Pitati's popularity – judged by the size of his workshop and the number of paintings – was based on his ability to blend the qualities of others and present them anew in vivid colours.
Carpaccio's double take on Venice of his day

The mystery of Vittore Carpaccio's two striking scenes of Venice in Two Venetian Ladies and Hunting in the Lagoon has only deepened with the discovery that the two images once formed a single painting, probably a door panel.
Scuola Grande di San Rocco: Tintoretto at his best

One of the most lavish public spaces in Venice, the Scuola Grande di San Rocco is peak Renaissance. Of its 60 paintings, more than 50 are by Tintoretto, with whom the scuola created an extraordinary partnership.
Sebastiano Ricci: Venice's bad-boy painter of saints

The young Sebastiano Ricci tried to poison his pregnant girlfriend and had flee Venice to avoid retribution. This enforced absence and all the travel was the making of him as one of the city's principal 18th-century painters.
Gentile Bellini's San Lorenzo canal is a recurring miracle

Although the scene in Gentile Bellini's Miracle of the True Cross at the Bridge of San Lorenzo is crowded, he captures a still moment set against the deep green of the waters of the canal – an atmosphere that is felt today.
Pittoni: Venice's international stay-at-home master

Giambattista Pittoni, the leading Venetian Rococo painter, was one of the least travelled painters of his day. Despite his many foreign commissions and fame, no journey in connection with them is documented.
El Greco: Named and schooled in Venice

It was in Venice where he mastered the elements of Renaissance painting, including perspective and the ability to stage elaborate narratives. It was also in Venice where he got the nickname El Greco, meaning the Greek.
Another miracle: Bastiani preserves a lost Venice

Lazzaro Bastiani's depiction of the city's topography in his Donation of the Relic is akin to 17th- and 18th-century painters of Venetian cityscapes, or vedute, who similarly captured views of Venice that now no longer exist.
The Tempest: Giorgione's masterpiece without a subject

Giorgione's fame rests on his mysterious paintings, of which The Tempest is a prime example. It's a masterful depiction of mood within a pastoral scene, one of the first in Venetian art. Beyond that, it's conjecture.
Piazzetta: Venice's dark Rococo master

Giambattista Piazzetta created art that was different from that of his 18th-century Venetian contemporaries. He did incorporate the colouring and curvaceous forms of the Rococo style, but was a darker artist.
Mansueti: Much more than painter of costume

Giovanni Mansueti, the 15th-century Venetian painter best known for his narrative canvases, is often dismissed as derivative. His paintings, however, capture the spirit of his time beyond a grasp of costume and architecture.
Bartolomeo Vivarini: Venice's arch conservative painter

Working in a conservative style, Bartolomeo Vivarini was an expert painter known for his intense colour palette. He has also been called a derivative artist who combined different influences but never developed his own style.
Gentile da Fabriano: Venice's International Gothic inspiration

No Venetian painter could claim to be untouched by Gentile da Fabriano's International Gothic. Jacopo Bellini who probably trained with Gentile, who changed Venetian art forever, certainly wouldn't.
Bastiani's doge starts the Venetian portrait tradition

Padua born and trained Lazzaro Bastiani may be best known for his figures of saints that seem to glide in ethereal atmospheres but he also painted one of the first secular portraits in Venetian art – that of Doge Francesco Foscari.
Carpaccio's knight is a web of infinite connections

Vittore Carpaccio's Young Knight in a Landscape is the earliest full-length portrait in Western painting – on the assumption that it's a portrait. It overflows with realistic detail and narrative, but also remains full of mystery.
Bellotto's Venice is like Canaletto's, only bigger

Bernardo Bellotto's views of Venice have the realism of his uncle Canaletto's vedute but are noticeably darker and colder in tone and colour. Even his compositions derived from Canaletto's works tend to increase in scale.
Carpaccio's doge offers a glimpse of Venice

No matter the subject, Vittore Carpaccio always sneaks Venice into the picture. Unlike others who set their doges against simple backgrounds, his Portrait of Doge Leonardo Loredan comes with a view of the lagoon.
Lorenzo Veneziano: First Venetian painter from real life?

A remarkably inventive artist, Lorenzo Veneziano was the leading Venetian painter of the second half of the Trecento. Much of his skill derived from first-hand observation and real life, an obvious innovation in Venetian art.
Mansueti: Venice's master of oriental theatre

The buildings Giovanni Mansueti creates in his Scenes from the Life of St Mark feel like theatre props. His use of Mamluk garb shows an interest in oriental themes inspired by Venice's colonialism of the 15th century.
Jacometto Veneziano: Purveyor of mophead portraits

Jacometto Veneziano, a little known painter in Early Renaissance Venice, was mainly active as a manuscript illuminator and a portraitist. It's his portraiture that now truly stands out for its detail, technique and backgrounds.
Jacopo Bassano: Venetian painter-choreographer

Jacopo Bassano's party trick is his placement of figures in dynamic compositions which lead your eyes around every detail of the canvas. Together with vibrant colours and animated figures, this is the essence of Mannerism.
Venetian beauties of Palma the Elder

With few public commissions during his career in Venice, Palma the Elder mostly catered to private patrons and for this reason he may be best known for his half-length, pseudo-portraits of beautiful Venetian courtesans.
Jacobello does justice to International Gothic in Venice

Jacobello del Fiore is a transitional figure in Venetian art. His work builds on the simpler Early Gothic and then transitions towards the more decorative International Gothic in its final stages. His mastery of it is definitive.
Tintoretto: Master of Venetian 3D

Linear perspective was a Renaissance tool for creating three-dimensional space. Tintoretto, one of the stars of late Venetian Renaissance, takes this idea beyond the bursting point with his absurdly vast perspectives.
Giorgione or Titian? – Shifting attributions in Venetian art

Venetian Renaissance painting has been plagued by mistaken attributions as academic research continues to identify individual masters' hand and separate it from that of their pupils, followers, imitators, and others.
Gentile Bellini's portrait of Venetian power

Gentile Bellini is the chronicler of Venetian society of the 15th century. In his paintings, Gentile is out to capture Venice's customs, values and power – and his portraits, like that of Doge Giovanni Mocenigo, do the same.
Antonello da Messina: Key influence on Venetian art

With oil paints, Antonello da Messina's pictures glow with their own light. His glassy surfaces and his practice of building form with colour rather than line influenced the Venetian painting technique, known as colorito.
Guariento takes the great leap from Giotto

Guariento di Arpo combines the Byzantine tradition with the Gothic style to anticipate Renaissance. His attempts at portraying human movement, both physical and emotional, are a step beyond the established norm.
San Sebastiano: Venice's Sistine Chapel

One of Venice's five plague-churches, San Sebastiano is known as the 'Veronese' church. Its patron and early Christian martyr – St Sebastian – takes centre stage in its interior in Veronese's wall-to-ceiling art.
Peterzano: Caravaggio's Venetian influencer

Venetian-born painter Simone Peterzano who is better known as the teacher of Caravaggio than for his own work is an influence that so irked Caravaggio's contemporaries and so awed his modern critics.
Cima da Conegliano: Poet of Venetian landscape

Cima da Conegliano, one of the leading painters of early Renaissance of the generation between Giovanni Bellini and Giorgione, never made a landscape painting but it is for his landscapes that he is best remembered.
Paolo Veneziano: Byzantine master who turns to Gothic

It's a credit to Paolo Veneziano, the principal painter of the Byzantine style in 14th-century Venice, that despite his repetition of subjects and figures, he became the most innovative and the first distinctive Venetian painter.
Jacopo Bellini: Venice's emerging Renaissance painter

Overshadowed by his son Giovanni, Jacopo Bellini was still key to the creation of Venetian Renaissance painting. A pupil of Gentile da Fabiano, he represents a transition from International Gothic to Renaissance.
Tiepolo: Last big name in Venetian painting

Giambattista Tiepolo's ceiling and wall frescoes are unrivalled not only in their ability to demonstrate the artist's imagination in the application of paint, but also in their sheer size and abundance throughout Venice.
Gentile Bellini's Venetian propaganda piece

One of the most emblematic images of Venice at the height of its power at the end of the fifteenth century, Gentile Bellini's Procession in the Piazza San Marco, is a subtle propaganda piece designed to celebrate Venetian authority.
Rare early Canaletto in Toronto

One of the finest examples of early Canaletto, the artist's most coveted period among his collectors, – The Bacino di San Marco, from the Piazzetta, around 1736 – is on display at the Art Gallery of Ontario in Toronto.
Caffi and the 19th-century idea of Venice

Ippolito Caffi, the foremost 19th-century representative of the urban vedute is a victim of the general interest in much earlier periods of Venetian art. His dream-like depictions of Venice deserve a second look.
Venice's only Rubens: Sacred or profane?

In Venice even the most obscure church hides a big-name masterpiece. At Santa Maria del Giglio, the already high expectations of finding a masterpiece are exceeded handily: there's a Rubens and the only one in town!
Giovanni Bellini's spiritual force in New York

The impact of Giovanni Bellini's St Francis in the Desert is undeniable. It has been called the artist's finest work and – as the centrepiece of the Frick Collection in New York – also the best Renaissance piece in America.
Canaletto's foray into real Venice

To those who know Canaletto as the painter of cityscapes with topographically accurate depictions of urban vistas or monuments in which the human figures play a secondary role, The Stonemason's Yard comes as a surprise.
Carpaccio's window onto medieval Venice

One of the great topographical paintings of Venice, Vittore Carpaccio's The Miracle of the Relic of the Cross at the Ponte di Rialto combines the miracle with a scene at the financial heart of the medieval city.
Titian launches Venetian career with a masterpiece

Popularly known as Assunta, the main altarpiece of Venice's Franciscan church, Santa Maria Gloriosa dei Frari – The Assumption of the Virgin is Titian's undisputed masterpiece, anticipating a whole new style of painting.
Dürer in Venice and The Feast of the Rosary in Prague

Albrecht Dürer is known for his familiarity with the art of the Venetian Renaissance and the works of German humanists. His artistic conflation of the two is obvious in The Feast of the Rosary which now hangs in Prague.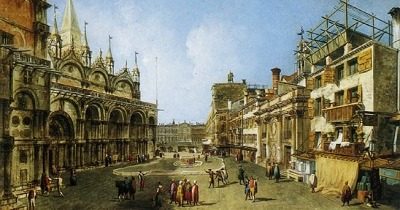 Marieschi's spirited, vivid vedute in Budapest
The vedute of Michele Marieschi, Canaletto's contemporary, offer the same topographical views of Venice's landmarks but they also come with a more spirited and atmospheric handling of the brush and a more vivid palette.
Venice comes alive with Giovanni Bellini's doge

Giovanni Bellini's Portrait of Doge Leonardo Loredan is a masterful depiction of the ascetic and brutally focused man that Loredan needed to be in order to climb his way up the greasy pole of Venetian politics.
Veronese's take on the Battle of Lepanto

In Venetian iconography, the Battle of Lepanto is the stuff of legend. So is Paolo Veronese's depiction of this largest naval battle in Western history since classical antiquity in his Allegory of the Battle of Lepanto.
Veronese: Venice's life-of-the-party guy
Paolo Veronese, Venice's Mannerist master, is famous for combining biblical themes with sumptuous banquet scenes. One of them in particular, The Feast in the House of Levi, didn't sit well with the Inquisition.
Alvise Vivarini's groundbreaking sacra conversazione

Alvise Vivarini's Virgin and Child Enthroned with Saints is groundbreaking sacra conversazione which shows the evolution not only of his personal style but of the Venetian painting at the end of the 15th century.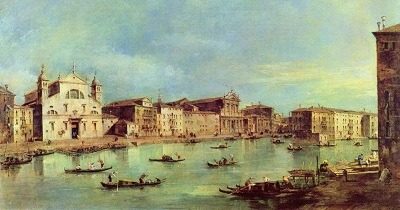 Guardi's long wait for artistic recognition

Francesco Guardi, who is now regarded as Canaletto's greatest rival, was in his lifetime a struggling artist and died in poverty. It wasn't until the late 19th century – at the highpoint of Impressionism- when he was rediscovered.
Pala d'Oro: Venice's best mosaic of the East and West

Pala d'Oro – the golden altarpiece in St Mark's Basilica – is a masterpiece of Byzantine metalwork of the 12th and Venetian painting of the 14th century. It combines the best of artistic traditions of the East and the West.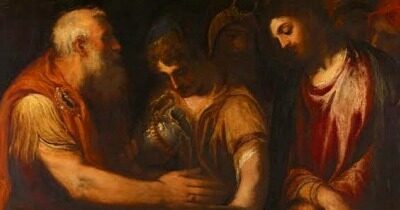 Andrea Schiavone: Venice's Mannerist black sheep

In 15th-century Venice, it wasn't easy to compete with Titian, Tintoretto and Veronese but some artists did, one being Andrea Schiavone. He distinguished his work by looking for inspiration beyond Venice.
Michele Giambono: A stubbornly Gothic master

Michele Giambono was the last – and rather stubborn – interpreter of the late Gothic in Venice: while everyone else moved on to the Renaissance, he kept churning out panels and mosaics in graceful International Gothic.
Domenico Tintoretto: Like father, like son

Like many other family-trained artists, Domenico Tintoretto painted in the shadow of his famous father, though at times his work was superior to that of Jacopo Tintoretto. This was particularly the case in his portraiture.