Chairman Mao in Venice, courtesy of Erró
Venice sure gets its fair share of visitors, including some famous oddballs, but Chairman Mao is bound to take the cake. His stroll across the Piazza San Marco is imaginary and part of Erró's Chinese Paintings from the 1970s.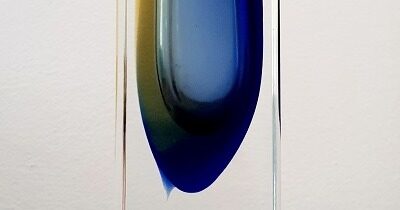 Venetian glass: Success story on industrial scale

Blending Roman experience with the skills from the Byzantine Empire and trade with the Orient, Venice became Europe's glassmaking centre. Through the ages, this industry has helped to establish demand for art glass.
The Merchant of Venice: Pretty historic and ugly antisemitic

Billed as a comedy, William Shakespeare's The Merchant of Venice is now better known for drama. And drama there is aplenty. With glimpses into the Venetian Ghetto where it's set, the play is full of Jew-hatred du jour.
Summertime: Venice of few tourists and early location sets

David Lean's Summertime (1955) is a cinematic ode to Venice of a time gone by. Filmed on location, this holiday romance elevates Venice to a character in its own right, one filled with sparse tourists and real Venetians.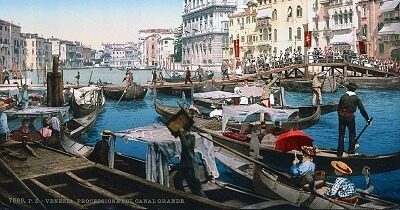 Venice still rules in Photochrom postcards

In the 1890s, when colour photography was first developed but was still commercially impractical, hand-tinted photographs gave pictures much needed colour. Some of the best from that era are of Belle Époque Venice.
Othello: A mirror of 16th-century Venice. warts and all

Othello, Shakespeare's interracial tragedy, explores a religious clash between Christian Venetians and Muslim Ottomans and how this informed the value system in Venice itself and Cyprus – its colonial periphery.
Venetian vedute shimmer in Mexico City

The most expansive collection of Venetian vedute spanning three centuries I have seen anywhere outside of Venice itself is on permanent display inside the shimmering amorphous Museo Soumaya in Mexico City.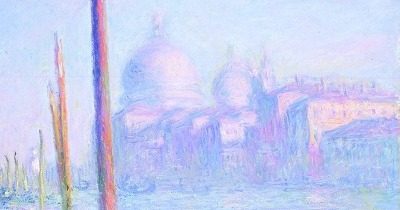 Monet's Venice bathes in light and shadow

Claude Monet turned out 37 paintings of Venice where images, many of them reproduced before, appear fresh: the blue-green waters, hazy skies and buildings that melt into the sky above and the canals below.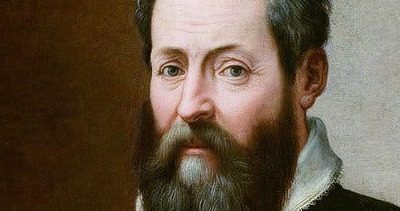 Vasari delivers great art history – and gossip

Giorgio Vasari, Florentine painter and architect, is now credited as the first art historian. His groundbreaking tome, Lives of the Artists, not only describes the art itself and the skills it requires, but also reveals a great storyteller.
Visentini: Venice for mass consumption

Antonio Visentini is now chiefly known as the master engraver of Canaletto's Venetian vedute. Their copies, mass-produced in England and elsewhere – even today, put Venice, within the reach of the middle classes.
Whistler's Venice is a night-time mystery

American artist James McNeill Whistler, known primarily for the iconic Whistler's Mother, was also an accomplished painter of Venice. He captured the city, often at night-time, in a heavily atmospheric style known as Tonalism.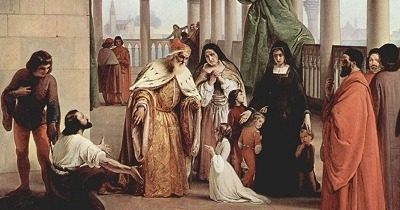 Francesco Hayez: Venice's runaway painter

Despite being born in Venice, Francesco Hayez, the foremost painter of Italian Romanticism of the 19th century, is known for having no professional connection to Venice. This would have been unthinkable even a century earlier.
Venice: A tour de force in Sorrentino's Youth

In what may be one of the most iconic scenes in the history of cinema, Venice appears in a dream since at the best of times, the floating city is a mirage. Sorrentino's Youth is a tour de force, for the filmmaker and Venice itself.
San Lazzaro: Venice's little Armenia

Between Venice and the Lido and off the checklist for mainstream tourists lies San Lazzaro degli Armeni, Venice's Armenian monastery. It's open to visitors for a daily tour – due to the limited traffic to the island.
Venice shines through rare travelguides in Dublin

What can long-dead writers teach you about travelling to Venice? A great deal, I would say, as The Voyage of Italy: 200 Years of Travel Guides, a temporary exhibition at the National Gallery of Ireland in Dublin, has taught me.
Vedova: Venice's own abstract expressionist

Emilio Vedova, a native of Venice and a postwar abstract expressionist, would be better known today had he been American rather than the leftwing, bespectacled hero of the radical Italian art he is remembered to be.
Venice as a character in Visconti's film classic

Luchino Visconti's film adaptation of Thomas Mann's novella Death in Venice is not set in the city of travelguides, but a cold and hostile place that indulges in voyeuristic obsession and conveys the feeling of decay.
Turner's Venice: Translucent, mysterious, sublime

Among Venice's many distinguished artistic visitors, the English Romantic painter JMW Turner stands out as someone whose Venetian experience was more about capturing a mirage rather than a real place.
Giovanni Bellini through the lens of Struth

It is a sign of the times that Thomas Struth's artistic cross-referencing of Giovanni Bellini's luminous San Zaccaria Altarpiece has resulted in a renewed interest in the old master and in photography itself.
Ackroyd's Venice: Pure City is part of the canon

It's to his credit that Peter Ackroyd, the prolific and magisterial biographer of cities, chiefly London, finds fresh things to say in his book Venice: Pure City about a place that has been so thoroughly over-described.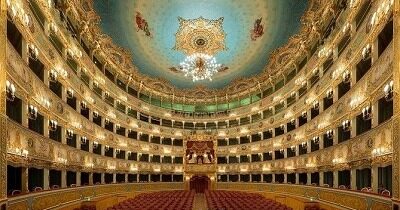 La Fenice: Venice's operatic sensation

No longer a sea power it once was, Venice in the 18th century became an operatic sensation. No other opera house symbolises this better than Venice's Teatro La Fenice, one of the grand temples of the genre.