In Venice, an epidemic is an old (plague doctor's) hat

To visitors of Venice and Venetians alike, the measures taken against the coronavirus outbreak should ring a bell or two. During the historic outbreaks of plague, mandatory quarantine, fumigation and social distancing were the norm.
Chairman Mao in Venice, courtesy of Erró
Venice sure gets its fair share of visitors, including some famous oddballs, but Chairman Mao is bound to take the cake. His stroll across the Piazza San Marco is, of course, imaginary and part of Erró's Chinese Paintings from the 1970s.
Fra Mauro: Venice's genius mapmaker
Famous for his cartographic skills, Venetian monk Fra Mauro took advantage of Venice's international traffic to create in 1450 what cartography experts now say may be the first modern world map, complete with surprising accuracy.
Florentine drawing or Venetian colour?

In Renaissance painting, in contrast to Florentine disegno, where "drawing" best approximates nature, stands Venetian colorito where "colour" and its judicious application best captures the look of life. How do they compare?
Was Venice a democracy?

The Republic of Venice, or La Serenissima as it liked to style itself, had many democratic virtues: it was founded on equality, cherished free speech and it was able to collectively defend itself and prosper. Was it, however, a democracy?
Richard Wagner: Death in Venice

If I'm going to die, why not do it in Venice. Thus thought to himself Richard Wagner, the great German composer of opera and never one to downsize. Like many others of his stature, Wagner had a longstanding love affair with Venice.
Venetian glass: Success story on industrial scale

Blending Roman experience with the skills learned from the Byzantine Empire and trade with the Orient, Venice became Europe's glassmaking centre. Through the ages until today, this industry has helped to establish demand for art glass.
Pietro Bembo: Venice's first Italian

The legacy of Pietro Bembo has lived on the lips of every Italian speaker to this day. Bembo codified Italian spelling and grammar and, unusually for a Venetian, argued for 14th-century Tuscan dialect to become the model for standard Italian.
Pietro Longhi: Painter of masked Venetians

No other artist captures Venice's masked revellers with more casual fidelity than Pietro Longhi. A contemporary of Francesco Guardi, he takes care to catch – with vivacity and sometimes with pungent irony – passages of real Venetian life.
Fondaco dei Tedeschi: Warehouse to shopping mall

Originally built as the headquarters and accommodation for German merchants, the Grand Canal edifice of Fondaco dei Tedeschi near the Rialto Bridge has also been a customs hall and a post office before becoming a department store.
Bernardo Strozzi: Genoese monk to Venetian master

Bernardo Strozzi, the principal figure of 17th-century art in both Genoa and Venice, lived the drama he painted. Early in life, he answered the calling by joining a strict monastic order which he then spent years trying to leave to become an artist.
St Ursula: Carpaccio's flight of fancy in nine parts

The nine large canvases by Venetian Renaissance master Vittore Carpaccio that make up the St Ursula cycle are among the best-loved in the Accademia. They are a world in itself – filled with Venetians, canals and funnel-shaped chimneys.
Lorenzo Lotto: Venice's consummate portraitist

Lorenzo Lotto's portraits are the work of a psychological genius. The look of his sitters is always idiosyncratic and penetrating. There is no conventional flattery – far from it. What there is plenty of is immense psychological depth.
Ca' d'Oro: A museum with a view

Ca' d'Oro, Barlomeo Bon's Gothic masterpiece, boasts a Grand Canal façade with rows of closely spaced columns with ogee arches and tracery with quatrefoil openings above them. Views of Venice framed by these arches are unsurpassed!
Palma the Younger: Venice's naturalist Mannerist

Iacopo Palma, also called Palma the Younger to distinguish him from his great uncle Palma the Elder, is now best known for his blend of naturalism and Mannerist exaggeration. He dominated Venice's art scene in the early 1600s.
Paolo Sarpi: Venice's Protestant reformer

Once described as "a Protestant in friar's clothing", Paolo Sarpi – one of the most eminent Catholic theologians of his time – became notorious as the defender of Venice against the papacy during the Venetian Interdict of 1606.
Paris Bordone: Painter of Venetian flesh

Venetian Mannerist painter Paris Bordone is best known for his sexualised paintings of women. His semi-undressed female half-figures, captured in close interaction despite the crowded space, often combine portraiture with allegory.
Scala Contarini del Bovolo: Venice's ultimate staircase

In Venice where only the church and state were allowed to erect towers, this private non-tower is so dominant that it's responsible for naming both the palace and the entire branch of the Contarini family that built it: Scala Contarini del Bovolo.
Pietro Aretino: Venice's adopted libertine

A versatile writer, Aretino wrote about art, food, sex, politics and war. His style was vigorous, written in the spirit of sprezzatura – the art of studied carelessness that brings Renaissance Venice to life in an extraordinary way.
A grave encounter: Stravinsky and Diaghilev in Venice

The composer and the impresario are both buried a few metres apart in the Orthodox section of the cemetery on the island of San Michele. Unlike Diaghilev who happened to die in Venice, Stravinsky wished to be interred there.
Bonifacio de' Pitati: Venice's technicolor painter

Praised as a brilliant colourist, Bonifacio de' Pitati's popularity – judged by the size of his workshop and the vast number of paintings – was based on his ability to blend the qualities of others and present them anew in vivid colours.
The Merchant of Venice: Pretty historic and ugly antisemitic

Originally billed as a comedy, William Shakespeare's The Merchant of Venice is now better known for drama. And drama there is aplenty. With glimpses into the Venetian Ghetto where it's set, the play is also full of Jew-hatred du jour.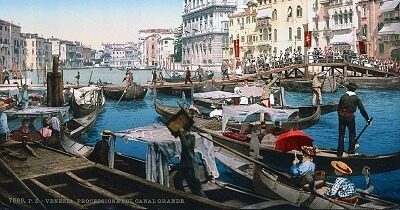 Venice still rules in Photochrom postcards

In the 1890s, when colour photography was first developed but was still commercially impractical, hand-tinted photographs gave pictures much needed colour. Some of the best picture postcards of the time are of Belle Époque Venice.
Carpaccio's double take on Venice of his day

The mystery of Vittore Carpaccio's two striking scenes of Venice in Two Venetian Ladies and Hunting in the Lagoon has only deepened with the discovery that the two images once formed a single painting, probably a door panel.
Scuola Grande di San Rocco: Tintoretto at his best

One of the most lavish public spaces in Venice, the Scuola Grande di San Rocco is peak Renaissance. Of its 60 paintings, more than 50 are by Tintoretto, with whom the scuola created an extraordinary partnership in the 16th century.
Sebastiano Ricci: Venice's bad-boy painter of saints

The young Sebastiano Ricci tried to poison his pregnant girlfriend and had flee Venice to avoid retribution. This enforced absence, during which he travelled widely, was the making of him as one of the city's principal 18th-century painters.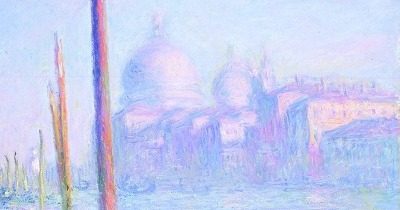 Monet's Venice bathes in light and shadow

Claude Monet turned out 37 paintings of Venice where images, many of which had been reproduced before, appear fresh: the blue-green waters, hazy skies and buildings that melt into the sky above and into the canals below.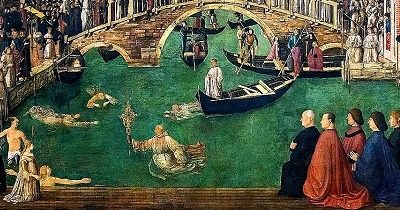 Gentile Bellini's San Lorenzo canal is a recurring miracle

Although the scene in Gentile Bellini's Miracle of the True Cross at the Bridge of San Lorenzo is crowded, he captures a magically still moment set against the deep green of the waters of the canal – an atmosphere that is still felt today.
Monteverdi: Venice's decadent musical maestro

Claudio Monteverdi, whose long career culminated in Venice, was the first great composer of opera – a new genre on the threshold between the Renaissance and Baroque. His modernity, however, was often dismissed as decadence.
Pittoni: Venice's international stay-at-home master

Giambattista Pittoni, the leading Venetian Rococo painter, was one of the least travelled painters of his day. Despite his many foreign commissions and international fame, no journey in connection with any of them is documented.
San Simeone Piccolo: A dome without a church

If you arrive in Venice by train, the odd little church with an oversized green eggcup dome is the first thing you see from the steps of the railway station across the Grand Canal. Napoleon famously called it "a dome without a church".
Marco Polo: Venetian patron of travel

The name of Marco Polo, Venetian merchant and adventurer, is one that everyone now associates with travel and discovery. Despite a sometimes sceptical reception, his travel memoir became one of the world's first bestsellers.
El Greco: Named and schooled in Venice

It was in Venice where he mastered the elements of Renaissance painting, including perspective and the ability to stage elaborate narratives. It was also in Venice where he got the nickname El Greco, meaning the Greek, and it stuck.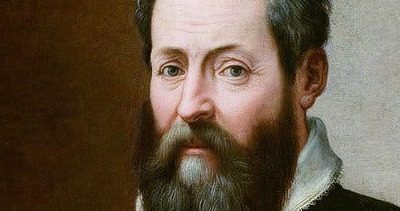 Vasari delivers great art history – and gossip

Giorgio Vasari, Florentine painter and architect, is now chiefly credited as the first art historian. His groundbreaking tome, Lives of the Artists, not only describes the art itself and the technical skills it requires, but also reveals a great storyteller.
Scarpa's Venice is both ancient and modern

Carlo Scarpa, the post-war modernist Venetian architect known primarily for his reimagining of public spaces – including that of the Accademia, has convincingly demonstrated how a city like Venice could be both antique and up-to-date.
Another miracle: Bastiani preserves a lost Venice

Lazzaro Bastiani's depiction of the city's historic topography in his Donation of the Relic is akin to 17th- and 18th-century painters of Venetian cityscapes, or vedute, who similarly captured views of Venice that now no longer exist.
Casanova: Much more than the archetypal Latin lover

Giacomo Casanova, the legendary Venetian seducer, was much more than the historical model of the Latin lover. He was also an adventurer, and traveller, but also a rogue, conman and adulterer. Above all, he was a talented writer.
The Tempest: Giorgione's masterpiece without a subject

Giorgione's fame rests chiefly on his mysterious, poetic paintings, of which The Tempest is a prime example. It's a masterful depiction of mood within a pastoral scene, one of the first in Venetian painting. Beyond that, it's conjecture.
Piazzetta: Venice's dark Rococo master

Giambattista Piazzetta created art that was fundamentally different from that of his 18th-century Venetian contemporaries. He did incorporate the colouring and curvaceous forms of the Rococo style, but was a darker artist.
Accademia: The grand home of Venetian painting

Home to pre-19th century masterpieces of Venetian painting, the Gallerie dell'Accademia, or Accademia, is Venice's principal art museum. The bulk of its collections come from Napoleon's mass looting of art from religious institutions around town.
Mansueti: Much more than painter of costume

Giovanni Mansueti, the 15th-century Venetian painter best known for his narrative canvases, is often dismissed as derivative. His paintings, however, capture the spirit of his time that goes beyond his grasp of costume and architecture.
Vivaldi's footsteps in Venice are elusive as his music

One of the cultural symbols of Venice during its last century as an independent republic is Antonio Vivaldi, the composer whose works marked a turning point in the development of the concerto and shaped the classical symphony.
Veronese: Venice's life-of-the-party guy

Paolo Veronese, Venice's 16th-century Mannerist master, is famous for combining biblical themes with sumptuous banquet scenes. One of them in particular, The Feast in the House of Levi, didn't sit well with the Inquisition.
Visentini: Venice for mass consumption

Antonio Visentini is now known chiefly as the master engraver of Canaletto's Venetian vedute. Their copies, mass-produced in England and elsewhere – even today, put Venice, for the first time, within the reach of the middle classes.
Bartolomeo Vivarini: Venice's arch conservative painter

Working in a conservative style, Bartolomeo Vivarini was a technically expert painter known for his intense colour palette. He has also been called a derivative artist who combined different influences but never developed his own style.
Amsterdam: Venice of the North 2.0

Amsterdam has to its name about one hundred kilometres of canals linking some 90 islands with the help of approximately 1 500 bridges. As such, this amphibious northern European capital is a prime contender for a Venice of the North.
St Petersburg: Venice of the North 1.0

St Petersburg – the cultural capital of Russia – is an amphibious masterpiece unto itself. Among the cities comparing themselves to Venice, it must feature, with its 342 bridges across its 42 islands and 93 waterways, at the top of the list.
Teodoro Correr: Venice's first antique hoarder

Long before modern billionaires realised how hollow their lives had been without a private museum, there was Teodoro Correr. Left to Venice, his antique collection would form the nucleus for the present-day Museo Correr.
Gentile da Fabriano: Venice's International Gothic inspiration

No Venetian painter could claim to be untouched by Gentile da Fabriano's International Gothic innovations and Jacopo Bellini who probably trained with Gentile certainly wouldn't. These developments changed Venetian art forever.
Bastiani's doge starts the Venetian portrait tradition

Padua born and trained Lazzaro Bastiani may be best known for his figures of saints that seem to glide in ethereal atmospheres but he also painted one of the first secular portraits in Venetian art – that of Doge Francesco Foscari.
San Giorgio Maggiore: Palladio's dream island church

They say that visitors come to the island of San Giorgio Maggiore for the views and stay there for Palladio. The appeal of this grand monastic church isn't just its location – and, yes, it's a piece of prime real estate – it's also how it fits there.
Carpaccio's knight is a web of infinite connections

Vittore Carpaccio's Young Knight in a Landscape is the earliest full-length portrait in Western painting – on the assumption that it's a portrait. It overflows with realistic detail and dramatic narrative, but also remains full of mystery.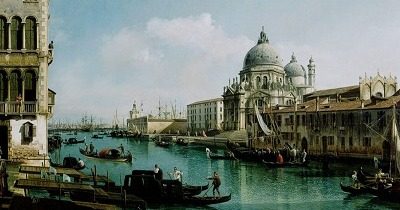 Bellotto's Venice is like Canaletto's, only bigger

Bernardo Bellotto's views of Venice have the same realism as his uncle Canaletto's vedute but are noticeably darker and colder in tone and colour. Also, even his compositions derived from Canaletto's works tend to increase in scale.
Carpaccio's doge offers a glimpse of Venice

No matter the subject, Vittore Carpaccio always sneaks Venice into the picture. Unlike other artists who set their doges against simple backgrounds, his Portrait of Doge Leonardo Loredan comes with a view of the Venetian lagoon.
Lorenzo Veneziano: First Venetian painter from real life?

A remarkably inventive artist, Lorenzo Veneziano was the leading Venetian painter of the second half of the Trecento. Much of his skill derived from first-hand observation and real life, an obvious innovation in Venetian art.
Whistler's Venice is a night-time mystery

American artist James McNeill Whistler, known primarily for the iconic Whistler's Mother, was also an accomplished painter of Venice. He captured the city, often at night-time, in a heavily atmospheric style known as Tonalism.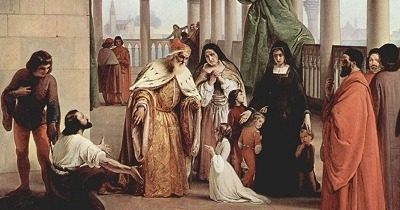 Francesco Hayez: Venice's runaway painter

Despite being born in Venice, Francesco Hayez, the foremost painter of Italian Romanticism of the 19th century, is known for having no professional connection to Venice. This would have been unthinkable even a century earlier.
Mansueti: Venice's master of oriental theatre

The buildings Giovanni Mansueti creates in his Scenes from the Life of St Mark feel like theatre props. His use of Mamluk garb shows an interest in oriental themes inspired by Venice's expanding colonialism in the 15th century.
San Moisè: Venice's Late Baroque oddity

The Late Baroque façade of the church of San Moisè, designed by Tremignon, is dripping with lush ornamentation of garlands, scrolls, cherubs – and camels. It's a far cry from the Venetian Baroque of Longhena's La Salute.
Jacometto Veneziano: Purveyor of mophead portraits

Jacometto Veneziano, a little known painter in Early Renaissance Venice, was mainly active as a manuscript illuminator and a portraitist. It's his portraiture that now truly stands out for its detail, technique and backgrounds.
Jacopo Bassano: Venetian painter-choreographer

Jacopo Bassano's party trick is his placement of figures to create a dynamic composition which leads your eyes around every detail of the canvas. Together with vibrant colours and animated figures, this is the essence of Mannerism.
Madonna dell'Orto: Venice's survivor church

When you visit today, you'd never know that the Venetian church of Madonna dell'Orto had been left to crumble as horse stables, a store and a warehouse. Its current state is a true miracle – perhaps the work of its miraculous relic.
Venetian beauties of Palma the Elder

With few public commissions during his lifelong career in Venice, Palma the Elder mostly catered to private patrons and for this reason he may be best known for his half-length pseudo-portraits of beautiful Venetian courtesans.
Ponte di Rialto: A Venetian bridge too far

From the engineering point of view, the single-span Rialto Bridge, laden with two rows of shops and three walkways in between and around them, would have a tough sell on solid ground. On Venice's shifting soil it defies gravity.
Jacobello does justice to International Gothic in Venice

Jacobello del Fiore is a transitional figure in Venetian art. His work builds on the simpler and local Early Gothic and then transitions towards a more decorative International Gothic style in its final stages. His mastery of it is definitive.
In Venice, modernity arrives by train

The fascist-era edifice of the Santa Lucia train station is as modern as Venice ever gets. The construction of the railway linking the city with the mainland in the 1840s began to transform the look of the last stretch of the Grand Canal.
Tintoretto: Master of Venetian 3D

Linear perspective was a Renaissance tool for creating illusions of three-dimensional space. Tintoretto, one of the stars of late Venetian Renaissance, takes this idea beyond the bursting point with his absurdly vast perspectives.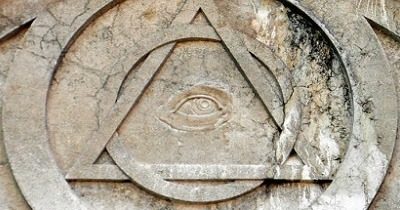 La Maddalena: Venice's mysterious masonic church

Modelled on the Roman Pantheon, the tiny church of Santa Maria della Maddalena, or simply La Maddalena, is a Venetian mystery. The all-seeing eye inside an interlocking circle and triangle above its door is a symbol of freemasonry.
Giorgione or Titian? – Shifting attributions in Venetian art

Venetian Renaissance painting has famously been plagued by mistaken attributions as academic research continues to identify individual masters' hand and separate it from that of their pupils, followers, imitators, and others.
Miracoli: Venice's slab of marble wedding cake

The Renaissance church of Santa Maria dei Miracoli is one of Venice's smallest but greatest architectural treasures. More sculpture than building, this jewel box of a church decked out in polychrome marble is simply surreal.
Rilke's Venice is a matter of faith

Travel for Bohemian-Austrian poet Rainer Maria Rilke served a single purpose – to seek inspiration for writing. Venice perpetually enthralled him and in his poetry about the city, two main themes prevail: affection and authenticity.
Gentile Bellini's portrait of Venetian power

Gentile Bellini is the supreme chronicler of Venetian society of the 15th century. In his paintings, Gentile is out to capture Venice's customs, values and power – and his portraits, like that of Doge Giovanni Mocenigo, do the same.
Antonello da Messina: Key influence on Venetian art

With oil paints, Antonello da Messina's pictures glow with their own light. His glassy oil surfaces and his practice of building form with colour rather than line greatly influenced the Venetian painting technique, known as colorito.
Venice: A tour de force in Sorrentino's Youth

In what may well be one of the most iconic scenes in the history of cinema, Venice appears in a dream since at the best of times, the floating city is really a mirage. Sorrentino's Youth is a tour de force, for the filmmaker and Venice itself.
Marin Falier: Venice's black-listed doge

In the Doge's Palace, Marin Falier's face is missing among the portraits of the Venetian doges. He was only doge to be thus airbrushed from history – as well as beheaded – for attempting a coup against the Venetian Republic.
Guariento takes the great leap from Giotto

Guariento di Arpo combines the Byzantine tradition with the Gothic style while anticipating early Renaissance. His attempts at portraying human movement, both physical and emotional, are a step beyond the established norm.
San Sebastiano: Venice's Sistine Chapel

One of Venice's five plague-churches, the church of San Sebastiano is known as the 'Veronese' church. Its patron and early Christian martyr – St Sebastian – takes centre stage in the church's interior in Veronese's wall-to-ceiling art.
Peterzano: Caravaggio's Venetian influencer

Venetian-born painter Simone Peterzano who is better known today as the teacher of Caravaggio than for his own work is an influence behind Caravaggio's style that so irked his contemporaries and so awed his modern critics.
Henry James's Venice is a sinking beauty

Henry James – who is considered by many to be among the greatest novelists in the English language – had an intimate relationship with Venice which gave him a profound knowledge of the city's art and architecture.
Why are there so many churches in Venice?

For a compact city of some six square kilometers, Venice does seem rather heavy on churches – there are 139 of them to be precise. Yet it is nothing short of a miracle that so many Venetian churches still survive today.
Cima da Conegliano: Poet of Venetian landscape

Cima da Conegliano, one of the leading painters of early Renaissance in Venice of the generation between Giovanni Bellini and Giorgione, never strictly made a landscape painting but it is for his landscapes that he is best remembered.
Fondaco dei Turchi: Venice's Byzantine revival

Fondaco dei Turchi, Venice's lodgings for Turkish merchants, is considered to be one of the finest examples of early Veneto-Byzantine architecture. In reality, it is an example of Byzantine revival due to its 19th-century restoration.
Paolo Veneziano: Byzantine master who turns to Gothic

It is a credit to Paolo Veneziano, the principal painter of the Byzantine style in 14th-century Venice, that despite his repetition of subjects and figures in a consistent idiom, he became the most innovative and the first distinctive Venetian painter.
San Lazzaro: Venice's little Armenia

Between Venice and the Lido and off the checklist for mainstream tourists lies San Lazzaro degli Armeni, the Venetian lagoon's Armenian monastery. It is open to visitors for a brief daily tour to coincide with limited vaporetto traffic to the island.
Jacopo Bellini: Venice's emerging Renaissance painter

Largely overshadowed by his son Giovanni, Jacopo Bellini became instrumental in the creation of Venetian Renaissance painting. A pupil of Gentile da Fabiano, he represents a transition from International Gothic to Renaissance.
Berenson's love of Venetian art came at a price

American art historian Bernard Berenson was a major figure in the attribution of Old – particularly Venetian – Masters but his financial interest in the art he was authenticating for sale has thrown into doubt many of his attributions of authorship.
Goethe's Grand Tour of Venice

Johann Wolfgang von Goethe, who is universally recognised as the greatest poet in the German language, wouldn't ordinarily be anyone's go-to person for travel advice for Venice had he not also written his Italian Journey.
Leaning towers of Venice
The Leaning Tower of Pisa has some stiff competition all around Italy as far as tilting bell towers go and Venice, unsurprisingly with its shifty foundations, counts as many as four such structures if you include one on the nearby island of Burano.
Venice shines through rare travelguides in Dublin

What can long-dead writers teach you about travelling to Venice? A great deal, I would say, as The Voyage of Italy: 200 Years of Travel Guides, a temporary exhibition at the National Gallery of Ireland in Dublin, has taught me.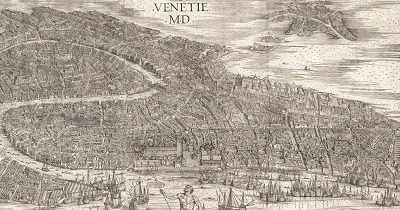 The Google Earth of Renaissance Venice
Despite all the romantic hype about getting lost in Venice without a map, there is one map every visitor to this city should seek out as I do whenever I visit the Museo Correr: Jacopo de' Barbari's bird's-eye print of Venice.
Lost Venice survives in view paintings

In the absence of pre-1800s photography, view paintings, or vedute, now serve as visual proof of Venetian buildings that no longer exist. They possess unique value for research of places for which no other evidence survives.
Caterina Cornaro by Gentile Bellini – and beyond

Caterina Cornaro, the Venetian-born Queen of Cyprus, was an important figure in Renaissance politics, diplomacy and arts. Her iconic portrait by Gentile Bellini now hangs at the Museum of Fine Arts in Budapest.
Vedova: Venice's own abstract expressionist

Emilio Vedova, a native of Venice and a postwar abstract expressionist, would be far better known today had he been American rather the leftwing, cranky, bearded and bespectacled hero of the radical Italian art he is remembered to be.
Sardi: Venice's High Baroque engineer

Not to be confused with a better known Baroque architect of the same name from Rome, the Venetian-born Giuseppe Sardi is responsible for several High Baroque church façades and an engineering restoration in Venice.
Tiepolo: Last big name in Venetian painting

Giambattista Tiepolo's ceiling and wall frescoes are unrivalled not only in their ability to demonstrate the artist's imagination and virtuosity in the application of paint, but also in their sheer size and abundance throughout Venice.
Venice as a character in Visconti's film classic

Luchino Visconti's film adaptation of Thomas Mann's novella Death in Venice is not set in the city of travelguides, but a cold and hostile place that indulges in voyeuristic obsession and conveys the feeling of decay.
Fall of San Geminiano: Vandalism or upgrade?

Sotoportego San Geminiano with the funerary plaque of Jacopo Sansovino on the pavement under the arcades of Ala Napoleonica – the Napoleonic Wing – is all that remains of San Geminiano, one of Venice's lost churches.
With Massari, Venetian architecture ends in style

In the latter part of the 18th century, Venice as a trading empire and a proud republic was a sinking ship but it was determined to go down in style. Giorgio Massari, as a talented architect, was only too happy to oblige.
Gentile Bellini's Venetian propaganda piece

One of the most emblematic images of Venice at the height of its power at the end of the fifteenth century, Gentile Bellini's Procession in the Piazza San Marco, is a subtle propaganda piece designed to celebrate Venetian authority.
Rossi: Master blender of Venetian styles

Domenico Rossi blended Palladian architecture with the Baroque achievements of Longhena. Together with his contemporaries, he is now credited with bringing stylistic consistency to 18th-century Venetian architecture.
Rare early Canaletto in Toronto

One of the finest examples of early Canaletto – The Bacino di San Marco, from the Piazzetta, around 1736 – is on display, of all places, at the Art Gallery of Ontario (AGO) in Toronto.
Sansovino and Venice as a new Rome

Several buildings around the Piazzetta of San Marco – the Zecca, Biblioteca Marciana, and Loggetta – have a distinctive Roman feel. They all are works of Jacopo Sansovino who recast Venice as the true successor of Rome.
Caffi and the 19th-century idea of Venice

Ippolito Caffi, the foremost 19th-century representative and innovator of the urban vedute is an undeserved victim of the general interest in much earlier periods of Venetian art.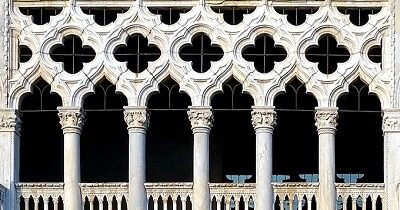 Bon: A byword for Venetian Gothic

As an architectural style, Venetian Gothic is largely synonymous with architect and sculptor Bartolomeo Bon and his palaces along the Grand Canal and church portals all around Venice.
Venice's only Rubens: Sacred or profane?

In Venice even the most obscure church hides a big-name masterpiece. At Santa Maria del Giglio, the already high expectations of finding a masterpiece are exceeded handily: there's a Rubens and the only one in town!
Giovanni Bellini's spiritual force in New York

The spiritual force of Giovanni Bellini's St Francis in the Desert is undeniable. The painting has been called the artist's finest and – since it is the centrepiece of the Frick Collection in New York – also the greatest Renaissance work in America.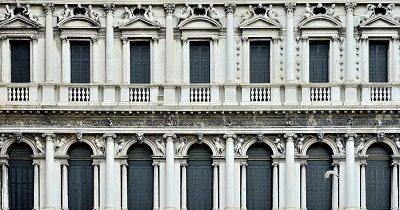 Scamozzi's last word on Venetian Renaissance architecture

Venetian architect and theorist Vincenzo Scamozzi bridges the era between Palladio, whose unfinished projects he inherited, and Longhena, his only pupil and architect, who in turn completed his teacher's unfinished work.
Turner's Venice: Translucent, mysterious, sublime

Among Venice's many distinguished artistic visitors, the English Romantic painter JMW Turner stands out as someone whose Venetian experience was more about capturing a mirage rather a real place.
Giovanni Bellini through the lens of Struth

It is a sign of the times that Thomas Struth's artistic cross-referencing of Giovanni Bellini's luminous San Zaccaria Altarpiece has resulted in a renewed interest in the old master and in photography itself.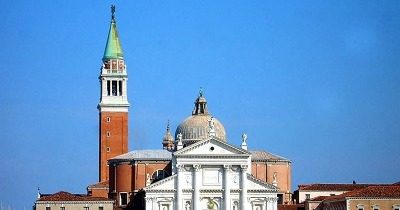 Palladio and the genius of Venice

In Venice, Palladio's clean lines, elegant proportions and classicising porticos are found on three churches that stand outside of the city's core but, for this very reason, can be viewed against an uncluttered background.
Canaletto's foray into real Venice

To those who know Canaletto as the painter of cityscapes with topographically accurate depictions of urban vistas or monuments in which the human figures play a secondary role, The Stonemason's Yard comes as a surprise.
Ruskin on Venice is a mixed bag

For anyone in love with Venice, an encounter with The Stones of Venice and John Ruskin, Victorian art critic and social commentator, is inevitable. The truth is, however, that Ruskin comes with lots of baggage.
Carpaccio's window onto medieval Venice

One of the great topographical paintings of Venice, Vittore Carpaccio's The Miracle of the Relic of the Cross at the Ponte di Rialto combines the miracle with a scene at the financial heart of the medieval city.
Venetian vedute shimmer in Mexico City

The most expansive collection of Venetian vedute spanning three centuries I have seen anywhere outside of Venice itself is on permanent display inside the shimmering amorphous Museo Soumaya in Mexico City.
Titian launches Venetian career with a masterpiece

Popularly known as Assunta, the main altarpiece of Venice's Franciscan church, Santa Maria Gloriosa dei Frari – The Assumption of the Virgin is Titian's undisputed masterpiece.
Dürer in Venice and The Feast of the Rosary in Prague

Albrecht Dürer is known for his familiarity with the art of the Venetian Renaissance and the works of German humanists. His artistic conflation of the two is obvious in The Feast of the Rosary which now hangs in Prague.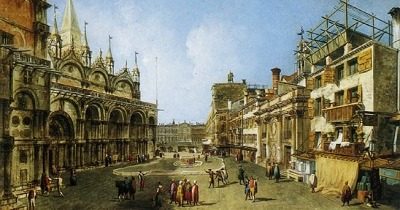 Marieschi's spirited, vivid vedute in Budapest
The vedute of Michele Marieschi, Canaletto's contemporary, offer the same topographical views of Venice's landmarks but they also come with a more spirited and atmospheric handling of the brush and a more vivid palette.
Venice comes alive with Giovanni Bellini's doge

Giovanni Bellini's Portrait of Doge Leonardo Loredan is a masterful depiction of the ascetic and brutally focused man that Loredan needed to be in order to climb his way up the greasy pole of Venetian politics.
'La Salute': Longhena's Baroque sensation
Baldassare Longhena's two-domed votive church of Santa Maria della Salute, or just the Salute, is a byword for Venetian Baroque and it has come to overshadow all else that was built in Venice during the 17th century.
Veronese's take on the Battle of Lepanto

In Venetian iconography, the Battle of Lepanto is the stuff of legend and so is Paolo Veronese's depiction of this largest naval battle in Western history since classical antiquity in his Allegory.
Codussi nudges Venetian Gothic towards Renaissance

A genius at blending Venice's traditional styles with the classical forms of antiquity, Mauro Codussi signals the change of Venetian architecture from Gothic to Renaissance. In doing so, he changes Venice forever.
Peggy Guggenheim's modern art revamps Venice

Against the backdrop of historic Venice, Peggy Guggenheim's Grand Canal palazzo displaying works of 20th-century artists seems as incongruous – but fabulous – today as it would have in her heyday.
Alvise Vivarini's groundbreaking sacra conversazione

Alvise Vivarini's Virgin and Child Enthroned with Saints is groundbreaking sacra conversazione which shows the evolution not only of his personal style but of the Venetian painting at the end of the 15th century.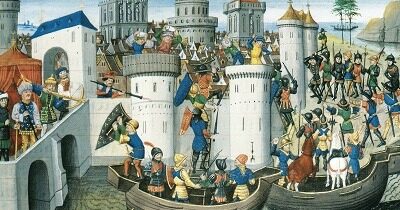 1204: Venice sacks Constantinople in own crusade

The infamous Fourth Crusade is often dubbed the Venetian Crusade due to the leading role played by Venice in this venture which concluded with the sack of Constantinople in 1204 – a turning point in medieval history.
1848: Venice's last gasp of independence

In 1848, the Venetians, led by Daniele Manin, rose up against the Habsburgs and proclaimed the restoration of the old order – the short-lived Republic of San Marco. The 17 months that followed were a time of hope – and despair.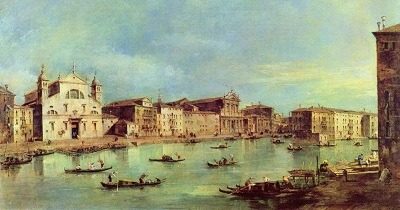 Guardi's long wait for artistic recognition

Francesco Guardi, who is now regarded as Canaletto's greatest rival, was in his lifetime a struggling artist and died in poverty. It wasn't until the late 19th century – at the highpoint of Impressionism- when he was rediscovered.
Fall of Venice: Unnecessary or inevitable?

The Fall of Venice may have been forced by a foreign power but it was the culmination of a long decline, during which it failed to adapt to the rise of more powerful nations or the discovery of new trade routes beyond the Mediterranean.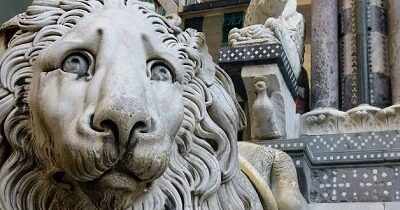 Venice and Genoa: Rivalry of maritime lions

Perched on the opposite sides of the Italian peninsula, Venice and Genoa grew into maritime powers in the 1100s and 1200s. A clash over trade routes in the eastern Mediterranean became inevitable and four wars ensued.
St Marks's Campanile: An exact replica of itself

The standalone, 99-metre tall St Mark's Campanile, perhaps the most recognisable symbol of Venice, is a timeless design. So much so that it was painstakingly rebuilt as an exact replica of itself after it dramatically collapsed in 1902.
Pala d'Oro: Venice's best mosaic of the East and West

Pala d'Oro – the golden altarpiece in St Mark's Basilica – is a masterpiece of Byzantine metalwork of the 12th century and Venetian painting of the 14th century. It combines the best of artistic traditions of the East and the West.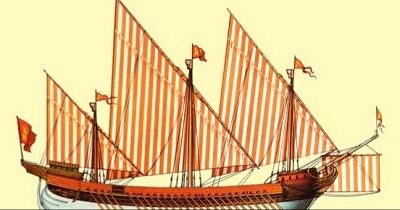 Venice and Byzantium: It's complicated 2.0

Commerce was what brought Venice and the Byzantine Empire together but also pushed them apart as the circumstances changed. Mutual trading continued well into the Ottoman era long after Byzantium had ceased to exist.
Venice and Byzantium: It's complicated 1.0

Like Venice's early church relations, Venetian politics from the settlement of the lagoon until the 9th century was largely about pro- and anti-Byzantine factions, with regular attempts by various clergymen to exert temporal influence.
Veneto-Byzantine architecture: Venice's oldest

Venice's earliest architectural style is a fusion of Byzantine forms overlaying a Latin Christian foundation. Unlike in the city's church architecture, in secular buildings the earliest Veneto-Byzantine style now only survives in fragments.
Venice and the Ottomans: Best of frenemies

The relationship between Venice and the Ottoman Empire is about pragmatism overcoming religious and political differences. Together, the doges and the sultans became rich through mutual trade, even as they fought multiple wars.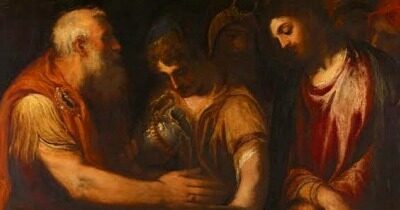 Andrea Schiavone: Venice's Mannerist black sheep

In 15th-century Venice, it wasn't easy to compete with the triumvirate of Titian, Tintoretto and Veronese but several artists did, one being Andrea Schiavone. He distinguished his own work, mostly by looking for inspiration beyond Venice.
Venice and the Mamluks: Slaves to spices

For 300 years from the mid-13th century, the Egyptian Mamluks took charge of the long-distance spice trade. As the new middlemen to control the movement of goods by land and sea, they linked Cairo with Europe, naturally via Venice.
Venice and Milan: Rivals in war and peace

Venice's expansion on the mainland in the first half of the 15th century led to four ruinous wars with Milan and a peace treaty that established a regional balance of power built on diplomacy and transformed the political map of Italy.
Doge's Palace: Venice's Gothic confectionery

An iced wedding cake of a building overlooking the city's main waterfront is the Doge's Palace, the historic residence of the doge, the seat of the Venetian Republic and, as an icon of Venetian architecture, the very symbol of Venice.
Venice and the popes: From equals to heretics

Throughout its history, Venice was often at odds with the church of Rome and it acted autonomously in each case. One of the founding principles of the Republic of Venice was the state's control over all religious matters within its reach.
League of Cambrai: War that changed nothing

Described as the least comprehensible war in history, the War of the League of Cambrai was fought between 1508 and 1516 by everyone who had an interest in Italy while factions in the war were at one time allies and at others enemies.
Arsenale of Venice: World's oldest factory

Venice's massive historic shipyard and armory – the Arsenale – is a unique pre-industrial example of mass production with centralised organisation, standardised processes and quality control, all of which anticipate the modern factory.
Carlo Goldoni: Venetian theatre unmasked

Goldoni's plays replace the masked stock figures of commedia dell'arte theatre with realistic characters and loose action with well-constructed plots. In Venice itself, Goldoni paradoxically puts the city's famous masks out of use in theatre.
1866: Venice votes to join Italy, or does it?

The Venetian plebiscite of 1866 came out overwhelmingly in support of joining the Kingdom of Italy. It's been argued, however, that it was just a formal endorsement of an Italian occupation of Venice that had already taken place.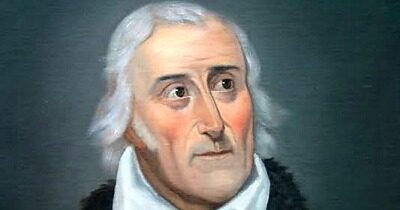 Lorenzo da Ponte: Mozart's librettist, Venice's outcast

Lorenzo da Ponte gives another meaning to versatile. The Venetian-born librettist wrote the words for 28 operas by 11 composers, including three of Mozart's best. But Da Ponte's own life was colourful enough to make an opera of itself.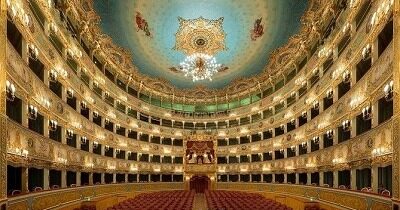 La Fenice: Venice's operatic sensation

No longer a sea power it once was, Venice in the 18th century became an operatic sensation. No other opera house symbolises this golden age better than Venice's Teatro La Fenice, one of the landmarks in the history of opera as a whole.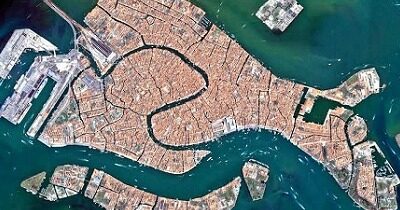 Grand Canal: Venice's beauty-clogged artery

Venice's main waterway, the Grand Canal, is one of the world's best urban thoroughfares. Its banks are lined with more than 170 palaces, churches and public institutions, which show off the architectural greatness of the Republic of Venice.
Michele Giambono: A stubbornly Gothic master

Stylistically, Michele Giambono was the last – and rather stubborn – interpreter of the late Gothic style in Venice: while everyone else moved on to the Renaissance, he kept churning out panels and mosaics in graceful International Gothic.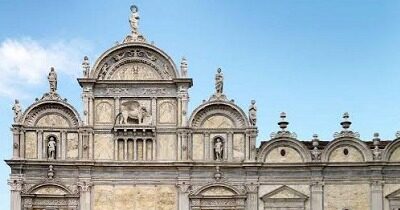 Scuola Grande di San Marco: World's most palatial hospital

Decked out with statues and reliefs of saints, angels and winged lions, the marble façade of the Scuola Grande di San Marco is one of Venice's grandest. With the historic scuola long gone, the ornate building now serves as the city's infirmary.
Domenico Tintoretto: Like father, like son

Like many other family-trained artists, Domenico Tintoretto painted in the shadow of his famous father, though at times his work was undeniably superior to that of Jacopo Tintoretto. This was particularly the case in his portraiture.
Venice on fire: A chance to reform and rebuild

Despite being surrounded by water, Venice has always feared fires. Wood isn't only the city's bedrock – the wooden piles that support its foundations have been likened to an inverted forest – it's also what the inside of all buildings is made of.
St Mark's Basilica: Two acres of Byzantine mosaic

With a mass of hemispherical domes, niched portals and two acres of mosaics, St Mark's Basilica is probably the best preserved example of Byzantine architecture outside Istanbul. Notably, it was custom-built to house the body of St Mark.