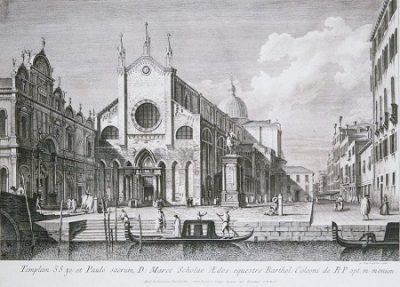 Visentini: Venice for mass consumption

Antonio Visentini, a minor 18th-century painter, architect and pedagogue, is now known chiefly as the engraver of Canaletto's Venetian vedute. Their copies, mass-produced in England and elsewhere, put Venice, for the first time, within the reach of the middle classes. Visentini is also known for his association with Joseph Smith, the British Consul in Venice, for whom the engraver acted as a general artistic factotum. The pair have changed the Grand Tour – for its participants and the Venetians – forever.
Trained as a painter, Visentini taught perspective as a subject at the Accademia di Belle Arti in Venice. He also painted – rather forgettable – perspective views of famous Venetian architectural complexes with imaginary vistas. With Smith he shared an interest in the designs and theories of Andrea Palladio and when the former, in expectation of his appointment as consul, bought the magnificent Palazzo Balbi on the Grand Canal, he commissioned Visentini to redesign its façade in the Palladian style.
The partnership between Visentini and Smith has been subject to some sneering, including from Horace Walpole. Despite his collection being a major draw on the Grand Tour, Smith's taste and expertise have been questioned as much as his integrity. His relationship with Visentini and even Canaletto has been described as exploitative but they too benefited from the association and Smith was instrumental in finding patrons for them and others whom he brought to the attention of the Grand Tourists.
The high point of Visentini's career came with his initial set of engravings after Canaletto's views of the Grand Canal in Smith's collection. Smith had initially commissioned from Canaletto a series of paintings depicting major Venetian monuments, including Palladio's principal works in imaginary settings. Visentini's engravings based on them have, for the first time, created a mass market for souvenirs for those who could only experience Venice on the cheap. Copies of them are still in circulation today.
What Visentini may have lacked in artistic vision he easily made up in technical expertise. His engravings are impressive, partly due to his understanding of perspective. This in the 18th century became an autonomous art form and an independent field of research in the Venetian academy. Visentini was also, thanks to Smith, at the centre of things in Venice and in touch with the artistic circles. As a rite of passage, travellers who came to Venice would see Smith's collection and buy Visentini's engravings.