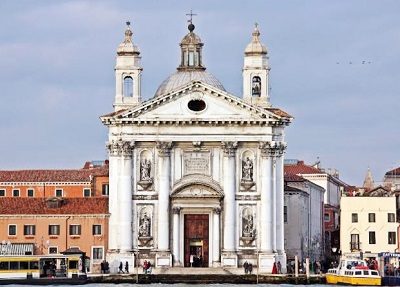 With Massari, Venetian architecture ends in style
Giorgio Massari, one of the last great architects during the dying years of the republic, has shown how established and unsurpassed Palladio's Vitruvian ideas had become in Venice in the 18th century. The two Massari masterpieces, I Gesuati and La Pietà, are strategically placed to face Palladio's churches of San Giorgio Maggiore and Il Redentore to make this point. Massari's eclectic style is also a synthesis of Longhena's High Baroque ornamentation but with more classical restraint. A great collaborator with Giambattista Tiepolo, Massari was an all-rounder architect with an eye for detail and finish who personally chose painters and sculptors to complete his vision.
Massari's largest Venetian church, I Gesuati, is a misnomer, named after the previous owners of the site rather than the Dominican order who built it. In a nod to Palladio, Massari derived its façade from the central portion of the façade of San Giorgio Maggiore, while the basic idea for the twin towers and the interior came from Il Redentore. It is said that 270 piles had to be driven into the barene (mudbanks) to support the weight of the giant Corinthian pilasters and the large triangular pediment. This classical church has a particularly well-lit interior and is exceptional in preserving its original layout and Rococo decoration intact. It has an abundance of frescoes and paintings by Tiepolo.
A much more stern-looking Massari church of La Pietà has none of the elaborate statuary of I Gesuati and is now primarily known for its association with Antonio Vivaldi. In the early 18th century, the composer was a concertmaster at the adjacent Ospedale della Pietà, a home for abandoned children, and many of his compositions were written for its all-female music ensemble. Though the church was built after Vivaldi's death, its oval shape honours his memory and it is still used as a concert hall. The church's façade remained incomplete long after Massari's death, with marble rising only a third of the way up the columns. It was finally completed in 1906 in a simplified form.
Massari's magnificent Palazzo Grassi is the last palace to be built on the Grand Canal only a few years before the fall of the Venetian Republic. As the largest-sited palazzo, it also provides a fitting closure to centuries of Byzantine, Gothic, Renaissance and Baroque architecture that surrounds it. Its academic classical style is somewhat incongruous to Venice and the Grand Canal from which here rises such a formal marble façade. The palazzo also lacks the lower mercantile openings typical of many Venetian palaces which shows that the era of Venice as a Mediterranean trading empire was over in the 18th century. Unusually for Venice, Palazzo Grassi is built around a courtyard.
At Ca' Rezzonico, Massari took over an unfinished building from Longhena after his death and under new owners. He decorated the façade, as we know it, and completed the palazzo, including the main staircase leading to the monumental ballroom. The ballroom is an expression of the luminous spirit of 18th-century Venice. It was designed to astonish guests with its sheer size, Rococo ornamentation and frescoes, all of which push the boundaries of what was possible in a city built on water. In the latter part of the 18th century, Venice as a trading empire and a proud republic was a sinking ship but it was determined to go down in style. Massari, as a talented architect, was only too happy to oblige.